Doing it right, by hand.
Island Chef Pepper Co was founded on the belief that hot pepper products shouldn't just be spicy, but also delicious. Our products are made in batches of less than 500 bottles, which allows us to give special care to each product throughout the production process.
Small batch
We keep our batches small to ensure exceptional taste and quality in every single bottle
Island grown
Our produce is either grown in our own backyard or sourced from local farms on Vancouver Island
Chef made
Top Canadian Chef Vince Capitano lovingly creates each batch by hand for exceptional quality
Flavour packed
We use fresh ingredients for a flavourful experience that will enhance any meal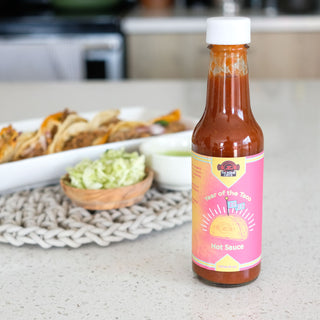 FEATURE COLLABORATION
Celebrate the
Year of the Taco
The Year of the Taco wouldn't be complete without the perfect sauce.  It's crafted with a bit of heat, bold flavor and a smokey finish. Not only does it taste good, it also does good by helping out The Zone 91.3's TLC Fund for Kids. 
"I am overwhelmed with just how good all of these products are. No regrets on going for the full line. Absolutely worth the money - without question."
"This is one of the best hot sauces I have ever had, and I've tried many hot sauces. If you are looking for an Asian style hot sauce with a nice mix of sweet and heat, this is the one for you!"